This is the third in a series of HG ("Holy Grail" posts). For all HG posts, click
here
.
I have a weakness for leather bags. I love smelling and fondling them. Yes, it's disgusting, but I can't help it.
My first bag-related memory is circa 1989 -- a Dooney and Bourke mental snapshot. The stiff, duck-emblazoned, forest green number my mother had. I distinctly remember thinking WHY. My, how times have changed.
My HG for bags is.. you guessed it, Dooney & Bourke. I visted the Factory store in New York last year, and holy god, I was in my own personal hell of unquenchable desire. I purchased the Dillen Tear Drop Hobo in T-moro/Tan and the Florentine Vachetta Leather Satchel in Natural. No, I didn't need two, but I fell victim to the BUYNOWMORE holiday frenzy. The Classic Calf's Leather Satchel in Saddle (or Coral) is featured heavily in my dreams, as well as the newest Florentine Vachetta Satchel in Natural, and anything from the Alto line. I bought a "vintage" small Black/Brown Dooney Satchel off ebay last year, and...wow, I don't need anymore bags.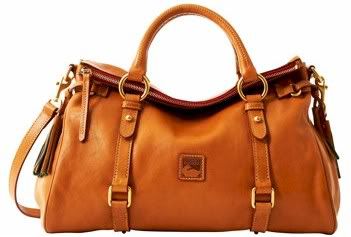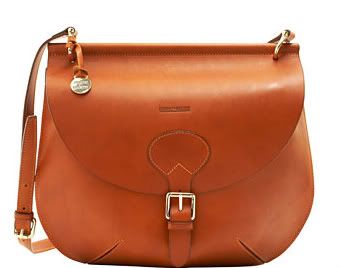 My crunchier choice is Roots. As a sensible female, I LOVE cross-body bags, and Roots has the mother of all sensible cross-body bags: the flat leather Village bag. The design basically speaks for itself, but what it is is a small, flat bag to be worn across the body. And now that they've released an orange bag with gold-tone hardware, HOLD ME BACK.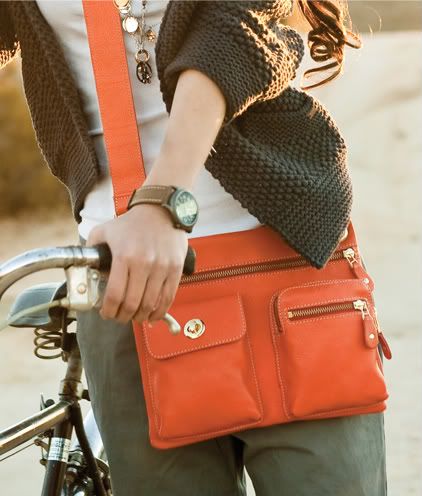 Look at those front pockets. Phone. I-pod. Keys. Chapstick. A turnlock?? What the what? Amazing. They tried to expand this line with a slightly larger satchel, but I find that the larger size is cumbersome and sort of defeats the whole purpose of this light, efficient bag.
The runners up are Cole Haan and Coach. Love many of the Cole Haan designs, but there's always something lacking for me. Coach is very sturdy, but I don't know... Dooney for president.