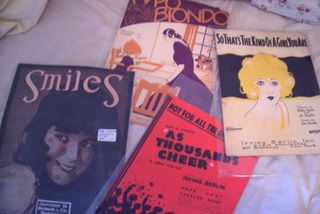 As I am in the market for any household-goods frugal finds, I decided to stop by my local antique market to browse. There was a lot of framed work, which I would've loved to get, had it not been so ugly. There was one nice piece, but it was $995. No thanks! I did find some sheet music that I thought would look nice matted and framed, though that might get expensive. These range in date from 1918 to 1933, and they were each between 4 and 10 dollars. Thoughts?
For a couple dollars, I founds these photos at a small antique store last year (plus a ring and a necklace). It's sort of weird displaying family photos that aren't your own, and I'm not sure how to do it.
Does anyone have any suggestions?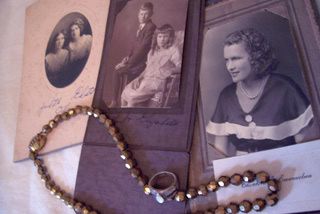 Also, I really like jadeite and milk glass, but I couldn't find anything in good condition. I think it had all been picked through. I got these clear green glasses with opaque tops at Anthropologie for $12.00 each. Decidedly not frugal, but they're beautiful, and I'll be using them on my future vanity.